€
0

.

0

bn

Investment Portfolio
Investment Portfolio breakdown per type
31.12.2022
0
%
Offices, Land and Other
Human Capital
0

,0

0

hrs

Training Sessions
Responsibility
The Ellinikon
One of the largest urban redevelopment projects in Europe
0

.

0

m sq.m.

Total Land Area
0

.

0

m sq.m.

Gross Buildable Area
0

m sq.m.

Metropolitan Park
(the largest coastal
park in Europe)
€
0

bn

Total Project
Budget
Malls
A top-quality property portfolio with unmatched footprint in the Greek market
0
owned shopping and
leisure centres (prime
retail assets) in Athens
and Thessaloniki
€1.0
0

bn

Gross Asset Value
€
0

m

Tenants' Sales
(new record high)
Marinas
Greece's first exclusive marina and the ultimate destination for international mega yachts
0
Marinas on the Athenian
Riviera (Flisvos and
Agios Kosmas)
NUMERICAL FIGURES
€
0
m profit
Group consolidated
EBITDA
€
0
m loss
Consolidated net
results
€
0
m profit
Adjusted
consolidated net
results
€
0

.

0

bn

Group investment
portfolio value (GAV)
€
0
m
Total cash proceeds
from property sales/
leases in The Ellinikon
€
0
m
Group total cash
balance
approaching
0

.

0

31.12.2018

0

.

0

31.12.2019

0

.

0

31.12.2020

0

.

0

31.12.2021

0

.

0

31.12.2022
SHARE PRICE PERFORMANCE / 5-YEARS
15.06.2018 - 16.06.2023
SHARE PRICE PERFORMANCE / LAST 12 MONTHS
15.6.2022 - 16.06.2023
Shopping Malls
Notwithstanding the adverse macroeconomic conditions, especially in the retail trade sector, stemming from the energy crisis and the mounting inflationary pressures, the following were observed during 2022 regarding Malls' key performance indicators:
Total tenants' sales at the Malls
(The Mall Athens, Golden Hall and Mediterranean Cosmos)
Average spending per visitor at the Malls (The Mall Athens, Golden Hall and Mediterranean Cosmos)
+
0
%
AVERAGE SPENDING PER VISITOR
0
%
AVERAGE OCCUPANCY FOR THE PERIOD
Significant developments in 2022
Issuance of the first Green Common Bond Loan (CBL) €
0

m

In July 2022, amidst challenging market conditions (mounting inflationary pressures and rising interest rates, geopolitical and energy crisis), the Company completed through a Public Offering, the issuance of its first Green Common Bond Loan (CBL) of €230m (7-year term, 4.70% coupon), with the participation of more than 14,000 Greek investors, setting a new record for investor participation in a bond issue, achieving a sizeable oversubscription (3.12 times). The net proceeds of the Green Bond will be allocated exclusively to the following categories of eligible Green investments, namely Sustainable buildings and Sustainable urban landscapes, Green energy and Smart Cities.
Infrastructure Works and other construction works at The Ellinikon
The Company has significantly accelerated its project execution efforts. Among others we highlight the following:
Poseidonos Avenue underpass:
completed c.50% of the excavations and c.25% of concreting works
New high voltage
supply lines:100% complete
Construction works for the main and local road network:
in progress
Flyover Poseidonos Avenue construction works:
in progress
Soil and groundwater remediation and decontamination works:
in progress
Building complex for People with Disabilities:
completed 100% of the concrete and 95% of the thermal façade and internal partitions
Piling works at the Riviera Tower:
already casted c.45% of the total 300 required piles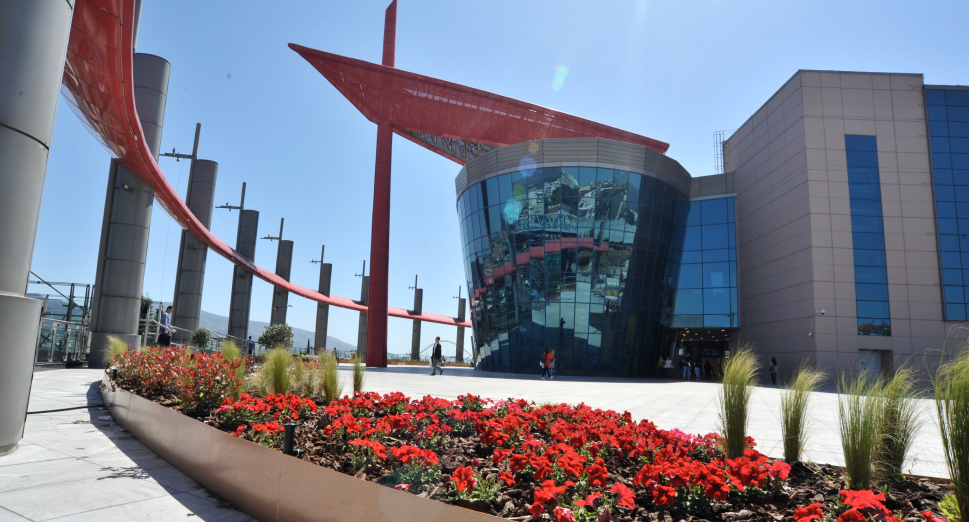 The Mall Athens is the largest shopping and entertainment centre in Greece. It started operating in November 2005, introducing a new era in shopping, dining, and entertainment. Offering a series of distinctive Greek and international brands and a wide variety of recreational options, it has since become the ideal meeting point for residents and families, as well as for visitors of the Athens. Strategically located in the northern suburb of Maroussi, next to the Athens Olympic Stadium and public transport junctions, The Mall Athens includes about 190 retail and entertainment units, spreading over five levels, with combined GLA of 58.5k sq.m., as well as 2,000 underground parking spaces. It is famous for its contemporary architecture and novel style, its practical layout, and the high-quality shopping and entertainment options offered to visitors.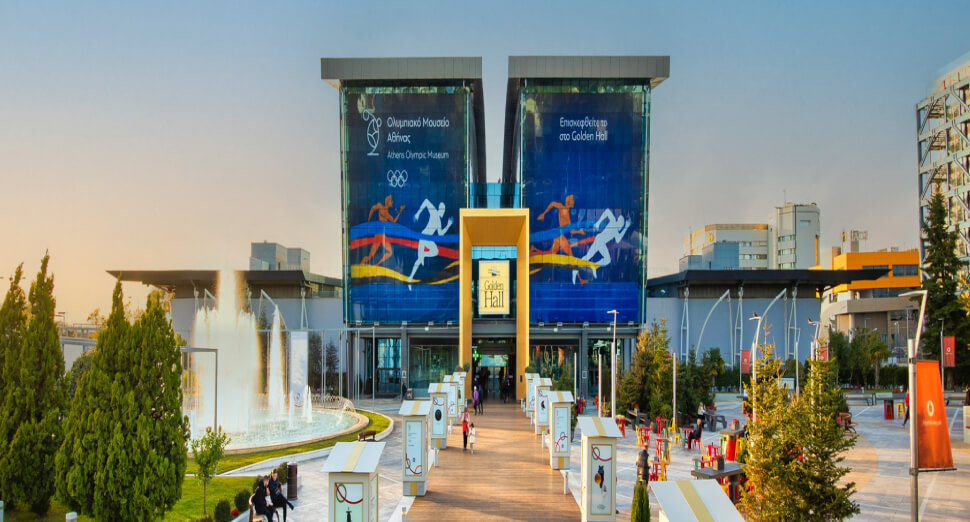 At the very heart of Kifissias Avenue, Golden Hall stands out since 2008, offering its guests a unique shopping experience. Delivering a unique shopping experience paired with casual dining and family entertainment is at the essence of Golden Hall's mission while approaching the visitors' daily needs with a touch of laid-back finesse. Having set its standards high above anywhere else in Greece, Golden Hall is a deserved winner of the Best European Shopping Centre award. Entering the 56k sq.m .- including also 1,600 underground parking - of Golden Hall, is the visitors' unique gateway to a world of 149 fashion, beauty, sports apparel, technology, art, and design shops and brands. From high fashion to kids' clothing and sports apparel, from ultra-premium brands to the stars of the casual era, and from the tech objects of the future to artifacts of design, Golden Hall serves its visitors to the extent of their needs.
Xplore
Entertainment CENTRE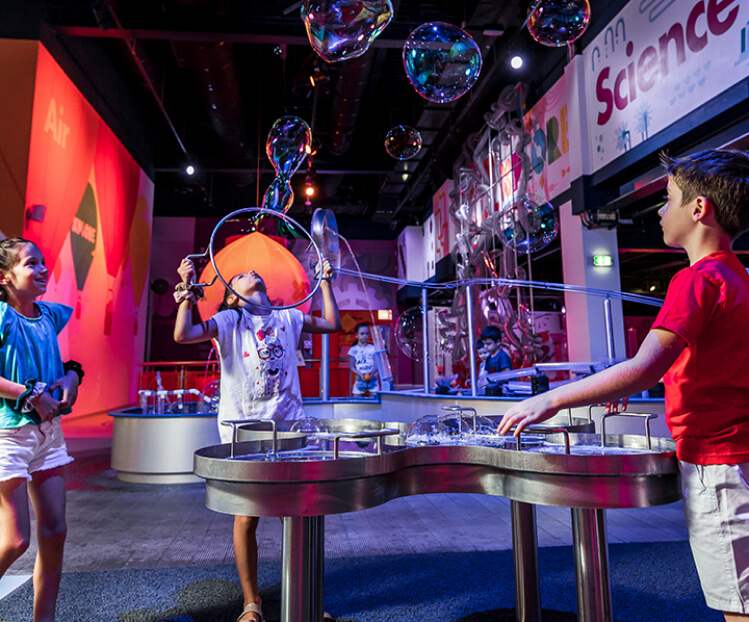 The XPLORE Entertainment Centre, located on the 1st floor of Golden Hall, is the largest themed and educational destination in Greece. 4.5k sq.m. of space full of unique, interactive experiences for the whole family, divided in the 3 thematic zones: Science, Adventure, and Oceans aquarium, designed to make learning and knowledge more exciting than ever. In addition to these, the first and only aquarium in Athens, invites visitors of all ages to discover the amazing marine world, see up close more than 2,000 fish, along with sharks, rays and other unique creatures, in 19 water tanks, and learn fascinating facts using the free audio tour. XPLORE continuously evolves by creating several educational programs approved by the Ministry of Education, entitled "Learn more, Play more" aiming to upgrade the family entertainment standards in Athens.
The Athens Olympic Museum
at Golden Hall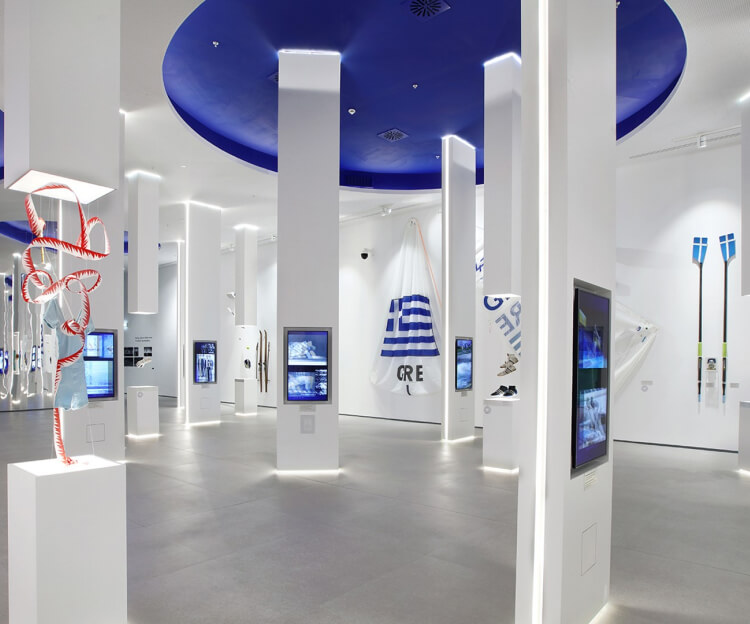 The creation of the Athens Olympic Museum has been an initiative by LAMDA Development. The Athens Olympic Museum, serves its mission to contribute to building a better world by educating and inspiring youth and elder without discrimination of any kind and in the Olympic spirit, via its permanent and periodic exhibitions, educational activations, programs and initiatives. The permanent exhibition of Athens Olympic Museum showcases the enthralling history of the Olympic Games, as well as the role and contribution of Greece to the establishment of the Olympic Movement. The Athens Olympic Museum in Golden Hall is a cultural and educational Centre and has created a new Olympic pole for the residents and visitors of the Greek capital.
03
Designer Outlet
ATHENS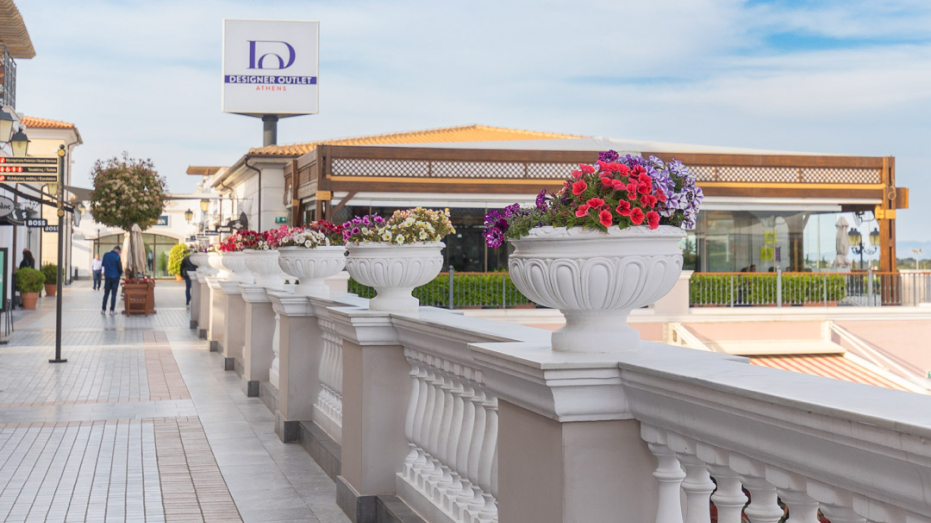 Designer Outlet Athens is the premier designer outlet in Greece opened in 2011. With 21.2k sq.m. GLA, beautiful setting, cafes and restaurants, 2,000 parking spaces and 114 stores offering more than 100 designer brands up to 70% off, all year round, Designer Outlet Athens is the absolute shopping destination. Located just 30 min from Athens Centre and 15 min from Athens International Airport one can find a wide range of stores, ranging from iconic fashion brands to athletic labels and high-street favourites. Designer Outlet is also open on Sundays during the key touristic period starting from May up to end of October thus becoming an attractive shopping destination not only for domestic but also for European and international tourists.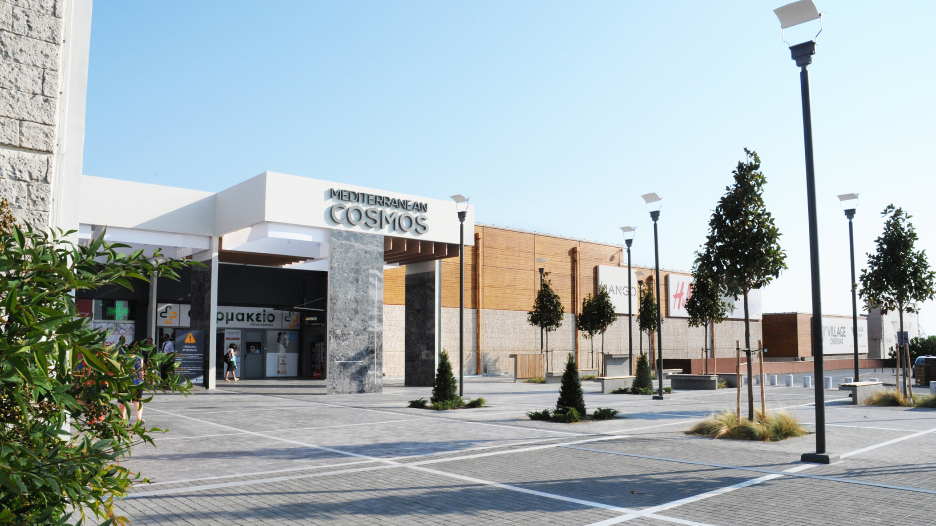 Mediterranean Cosmos in Thessaloniki is the largest shopping and entertainment centre in Northern Greece. With 46k sq.m. GLA, Mediterranean Cosmos is known for its 196 shops, its various dining and entertainment options, as well as its wide range of engaging activities for families on offer. Located near the city's international airport and central highways, it is easily accessible, offering also easy parking with its 2,800 parking spaces. It has become an increasingly popular destination for locals, residents of nearby cities and of course tourists. Mediterranean Cosmos operates under a ground lease from the Ecumenical Patriarchate.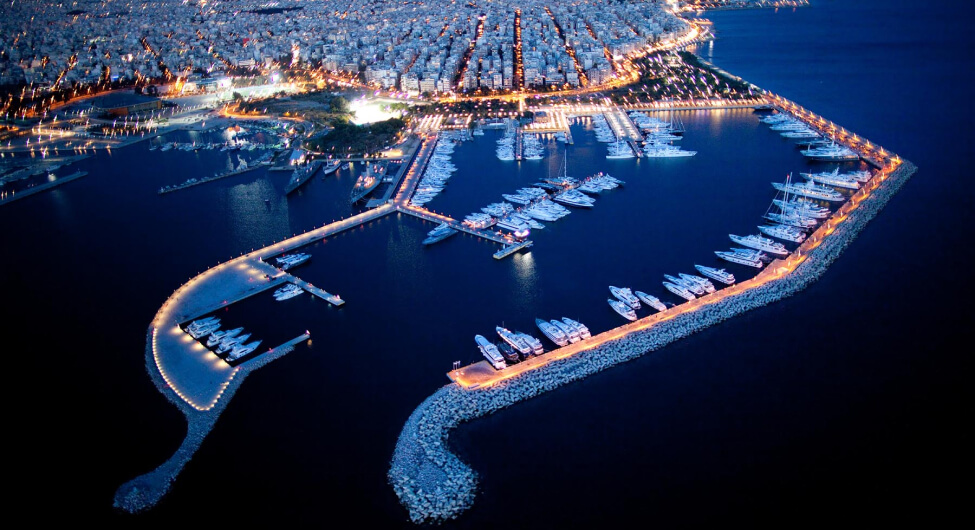 Boasting a long history dating back 20 years, coupled with a 21% domestic market share, Flisvos Marina is the highest-ranking Greek tourist port in terms of turnover and enjoys a prime reputation as the ultimate destination for international mega yachts. Flisvos Μarina features 310 berths, half of which accommodate boats and luxury yachts exceeding 30 m. in length, perfectly catering to the needs of all mega yachts from Greece and around the world. The port and land infrastructure (90.2k sq.m. in total), as well as the commercial part of the marina constitute a modern facility attracting upscale tourism. Since 2002, when LAMDA Development Group took over the management of Flisvos Marina, it has evolved into a leading and multi-award-winning marina in the Southeast Mediterranean, setting enviable standards Europe-wide and significantly contributing to the upgrade of the wider area. In 2022, Flisvos Marina published its 4th Sustainability Report according to the GRI standard.
The Ellinikon is a world-leading mixed-use development on a prime seafront location at the Athenian Riviera, reinstating the standards of the Mediterranean coastal urban living. Designed by the renowned Foster + Partners, this project stands out in Europe due to its exceptional location, expansive size, and remarkable potential. It is poised to establish new standards for coastal development in the Mediterranean, encompassing integrated and sustainable living, iconic placemaking, smart infrastructure, and diverse business opportunities ranging from tourism to innovative commercial and retail spaces. Spanning an extensive area of 6.2m sq.m, the former Athens' international airport, will be transformed into an all-rounded destination composed of several clusters, each one with distinct character, combining residences, shopping, working, leisure, entertainment and cultural activities. Additionally, a 3.5 km stretch of coastline situated at the southern edge of The Ellinikon site will be upgraded and enhanced to provide high-end living spaces and opportunities for public enjoyment. At the heart of this development lies a 2m sq.m. park, one of the largest coastal public parks worldwide, serving as a testament to Greek heritage and biodiversity. Every building within The Ellinikon will adhere to the highest sustainability standards. Climate-positive design principles will be employed throughout the development, resulting in reduced energy consumption, enhanced energy efficiency, and minimized carbon emissions. Pedestrian and cyclist-friendly pathways will connect the different districts, while electric vehicle infrastructure will be integrated throughout the development. Moreover, The Ellinikon will incorporate state-of-the-art smart city technologies from the ground up, ensuring improved safety, greater efficiency, and an enhanced quality of life. The development of The Ellinikon has been officially kickstarted by LAMDA Development following the official inauguration of works in Fall 2022, in an event attended by the Greek Prime Minister and various government officials.
The economic and social impact of The Ellinikon
The Ellinikon is being developed as a single property and as an area of multiple functions of metropolitan dimension and international reference. The aim is to enhance Athens as a tourist destination, as a business centre and as a recreation area. At the same time, The Ellinikon aims at the creation of jobs, at the development of a Metropolitan Park and other destination points - with green and recreation spaces open to everyone - as well as at the regeneration of the nearby seafront area. A city is being developed based on modern international practices, where everyone will be able to find what he/she requires on a daily basis, and at a very close distance: schools and sports facilities, health and welfare services, as well as entertainment and recreation areas.
€
0
bn
Total investment
2.
0
%
Contribution to GDP
0

,000

New jobs
€
0
bn
In tax revenues
0
m
Visitors expected
annually
c.€1.
0
bn
Budget for
infrastructure projects
A Smart City
The Ellinikon will be a state-of-the-art smart district that pioneers the future of home, work, and entertainment; utilizing technology to deliver sustainability and serve the people of tomorrow. A Smart District from the ground up, both people-focused and future-proofed, robust, resilient and highly-networked, welcoming innovations as they become available. Integrating the most advanced "smart city" technologies, including Internet of Things, data analytics, ultra-high speed fiber optics network and full 5G, aims to provide a digitally assisted everyday life to its residents and employees.
A Sustainable City
All of The Ellinikon's developments holistically follow the highest standards of sustainable development both in design, construction and operation. All commercial developments during Phase 1 of the project, as well as most residencies, aim at an international "LEED" sustainable development certification. At the same time, the certification of individual projects with the international "WELL" and "SITES" certifications is promoted, aiming at the users' health and well-being and the development of sustainable outdoor spaces.
Furthermore, in cooperation with specialized companies of green engineering and Greek plant nurseries, LAMDA Development is creating temporary exclusive spaces, which will host trees that were transferred and will be transferred there due to the works at The Ellinikon. The trees will be kept safe until they are gradually replanted in the Metropolitan Park and in the public areas of the new green city. Already more than 2,000 trees have been transferred to exclusive storage areas of a large Greek plant nursery.
Parts of The Ellinikon already

delivered to the public
The Ellinikon

Experience Park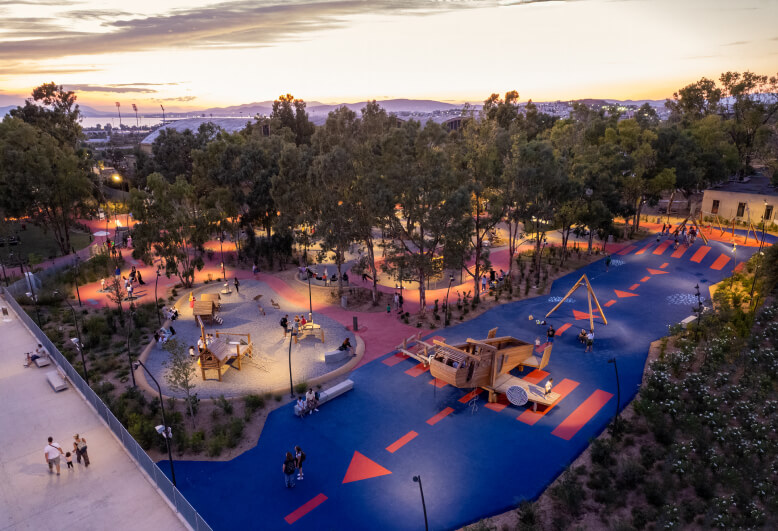 The Ellinikon Experience Park opened its doors on December 20th, 2021 and since its official opening, it has been visited by more than 1.5m visitors. It is the first part of The Ellinikon Park located within the Aviation Hangars Precinct and the overall development, signifying the initial green shoots of a much greater transformation. Covering 75k sq.m., features new softscape areas with 900 new trees and 80,000 plants, plazas, playground, outdoor fitness area, interactive fountain and supporting facilities. It is inclusive and accessible by all, intending to promote the connection amongst visitors.
The Ellinikon

Experience Centre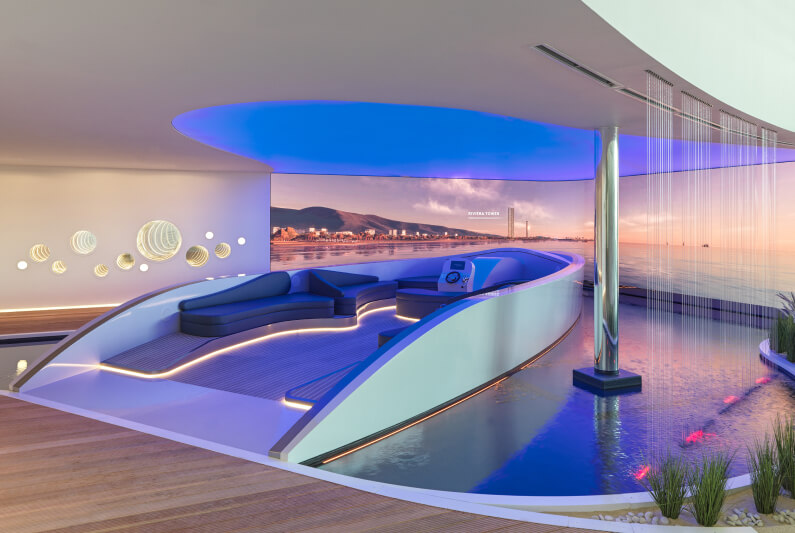 The Ellinikon Experience Centre functions as a state-of-the-art visitors' facility situated within the Experience Park, specifically in the historic Hellenic Air Force Hangar C. Its purpose is to formally acquaint the public with The Ellinikon and enable them to comprehend its immense significance and influence as a prominent urban revitalization endeavor. The Experience Centre is comprised of distinct sections, each centre around five key thematic areas. Through thoughtfully crafted interactive encounters, visitors will have the opportunity to witness the envisioned future and comprehensive layout of The Ellinikon
LAMDA Development recognizes that its business success is based on its people. Therefore, it is of particular importance to provide the best possible work environment and experience for all employees. For this reason, strategies of attracting, developing, and retaining human resources are followed, while providing equal opportunities to all. Furthermore, the Group supports its people in their learning, development, mobility, and achieving their goals.
0
Εmployees*
*Total number of employees of LAMDA Group as of 31.12.2022
0

.

0

%
Male
0

.

0

%
Female
0

,0

00

hrs
of training sessions
Distribution of employees based on their education profile
Secondary Education
Higher Education
Post-Graduate Education
Sustainable Development Strategy
At LAMDA Development, Sustainable Development is aligned with the company's business strategy and values, as it is the tool to create a sustainable future for the company, but also for the economy, society and the natural environment. The company's Sustainable Development Strategy consists of 3 main pillars, each of which has a broader target and individual focus areas:
Decarbonization
Circularity
People and Prosperity
Climate change
LAMDA Development aims to ensure environmentally friendly operations for all projects in operation andunder development, in the context of Sustainable Development.
The company's shopping centres apply an EMS and are equipped with Building Management Systems (B.M.S.) to monitor energy consumption
Flisvos Marina has an established Energy Management procedure aiming at the systematic management and prevention of air and noise pollution in all its facilities.
Environmentally friendly design at The Ellinikon based on the principles of Sustainable Development. All commercial developments and a great portion of residencies, aim at an international "LEED" sustainable development certification.
Water and Wastewater
LAMDA Development focuses on the rational water management, both at company level and during the development and operation of projects, shopping malls and the marina. It is committed to reduce water consumption and monitor in all its manifestations, while its goals are intertwined with the reduction of its environmental footprint.
Mechanisms and devices installed at the shopping centres and Flisvos Marina for water saving
"Smart" management of water in The Ellinikon, with the aim of reducing water consumption, costs and leaks
Construction and operation of a Water Treatment Plant at The Ellinikon to produce irrigationwater for urban greenery is also envisaged.
Waste Management
LAMDA Development is dedicated to safeguarding the environment and ensuring responsible solid waste management. The company prioritizes recycling and embraces the principles of the circular economy in its daily operations across various business units, including its shopping centres, Flisvos Marina, and upcoming projects like The Ellinikon.
Modern practices and procedures of waste management are applied with an emphasis on recycling (separation of five streams)
Used oils and fats are collected from the stores of the shopping centres by authorized companies, avoiding their discharge in the sewerage network
At Flisvos Marina, all waste is directed to recycling licensed bodies
At The Ellinikon, the Excavation, Construction and Demolition Waste is managed in accordance with the current Legislation and the Project's Environmental Terms
Energy Investments
In the context of green investments, LAMDA Development proceeded with the following in 2022:
Acquisition of 20% of the share capital of R-Energy 1 Holdings an energy company with a portfolio of Renewable Energy Sources (RES) projects with a total capacity of 44 MW.
Acquisition of 67.71% share of GREEN VOLT P.C. through participation in a share capital increase of €1.65m. The subsidiary will be active in the renewable energy sector.